Currency
The Iranian Rial is the currency of Iran. The most popular Iran Rial exchange rate is the USD to IRR rate. The currency code for Rials is IRR, and the currency symbol is ﷼.
Climate
Iran has a hot, dry climate characterized by long, hot, dry summers and short, cool winters. The climate is influenced by Iran's location between the subtropical aridity of the Arabian Desert areas and the subtropical humidity of the eastern Mediterranean area. January is the coldest month, with temperatures from 5°C to 10°C, and August is the hottest month at 20°C to 30°C or more.
In most of the areas, summers are warm to hot with virtually continuous sunshine, but high humidity on the southern coastal areas of the Persian Gulf. Daily Temperatures can be very hot; on some days temperatures can reach easily 40°C or more, especially along the Persian Gulf and Oman Sea which causes a danger of heat exhaustion.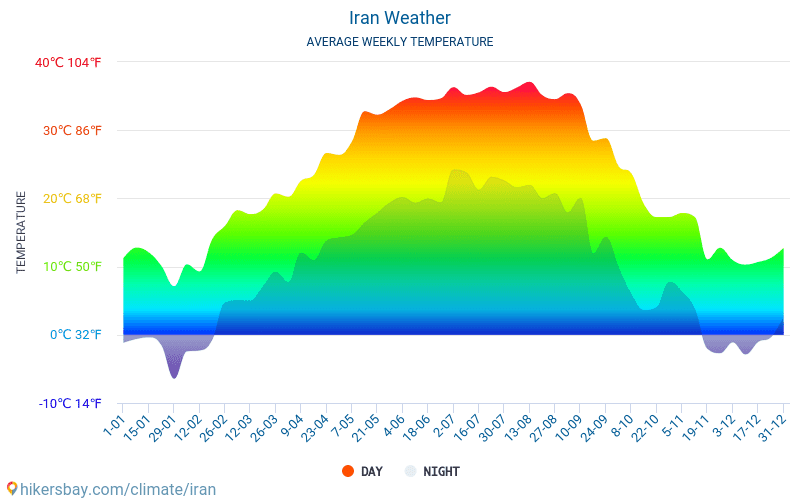 Languages
The majority of the population speak Persian, which is also the official language of the country. Others include speakers of the rest of the Iranian languages within the greater Indo-European languages, and the languages of the other ethnicities in Iran.
In northern Iran, mostly confined to Gilan and Mazenderan provinces, the Gilaki and Mazenderani languages are widely spoken. They both have affinities to the neighboring Caucasian languages. In parts of Gilan, the Talysh language is also widely spoken, which stretches up to the neighboring country of Azerbaijan. Kurdish is widely spoken in Kurdistan Province and nearby areas. In Khuzestan, many distinct Persian dialects are spoken. The Lurish and Lari languages are spoken in southwestern and southern Iran.

Economy
Iran's economy is a mixture of central planning, state ownership of oil and other large enterprises, village agriculture, and small-scale private trading and service ventures.
Iran is ranked as an upper-middle income economy by the World Bank. In the early 21st century the service sector contributed the largest percentage of the GDP, followed by industry (mining and manufacturing) and agriculture.
The government doesn't recognize trade unions other than the Islamic Labour Councils, which are subject to the approval of employers and the security services. The minimum wage in June 2013 was 487 million rials a month ($134). Unemployment has remained above 10% since 1997, and the unemployment rate for women is almost double that of the men.
In 2006, about 45% of the government's budget came from oil and natural gas revenues, and 31% came from taxes and fees. As of 2007, Iran had earned $70 billion in foreign exchange reserves mostly (80%) from crude oil exports. Iranian budget deficits have been a chronic problem, mostly due to large-scale state subsidies, that include foodstuffs and especially gasoline, totaling more than $84 billion in 2008 for the energy sector alone.

Education

Education in Iran is highly centralized. K-12 education is supervised by the Ministry of Education, and higher education is under the supervision of the Ministry of Science and Technology.
The requirement to enter into higher education is to have a high school diploma and pass the national university entrance examination, Iranian University Entrance Exam (known as concour), which is the equivalent of the US SAT exams.
Higher education is sanctioned by different levels of diplomas. Kārdāni (associate degree; also known as fowq e diplom) is delivered after 2 years of higher education; kāršenāsi (bachelor's degree; also known as licāns) is delivered after 4 years of higher education; and kāršenāsi e aršad (master's degree) is delivered after 2 more years of study, after which another exam allows the candidate to pursue a doctoral program (PhD; known as doctorā)./span>

Government

The political system of the Islamic Republic is based on the 1979 Constitution, and comprises several intricately connected governing bodies. The Leader of the Revolution ("Supreme Leader") is responsible for delineation and supervision of the general policies of the Islamic Republic of Iran. The Supreme Leader is Commander-in-Chief of the armed forces, controls the military intelligence and security operations, and has sole power to declare war or peace. The heads of the judiciary, state radio and television networks, the commanders of the police and military forces and six of the twelve members of the Guardian Council are appointed by the Supreme Leader. The Assembly of Experts elects and dismisses the Supreme Leader on the basis of qualifications and popular esteem. However, the ability of the Assembly of Experts to guess who is popular is questionable. For example, in 2015 they elected Mohammad Yazdi as chairman of the Assembly of Experts, but in 2016 in the popular election, Mohammad Yazdi was voted out of the Assembly of Experts itself.

Culture

In general, Iran is not the safest countries in Middle East. But Iran can be safer than Westerners might expect. Most people are genuinely friendly and interested to know about you and your country, so leave aside your preconceptions and come with an open mind. Iran is still a relatively low-crime country, although thefts and muggings have been on the increase in recent years. Keep your wits about you, and take the usual precautions against pickpockets in crowded bazaars and buses. Using international credit or debit cards in Iran is not possible everywhere, except Isfahan and Shiraz and some hotels who accept credit cards, but you can buy Iranian banks' prepaid no-name Gift Cards to enjoy money withdrawal from more than 11,000 ATMs around Iran for free. Purchasing gift cards has no surcharge or service fee, and you can withdraw or spend all the money you put in your gift card. Some of the gift cards don't have an ATM withdrawal feature and are only for using in shops and stores POS, so make sure you get ATM enabled gift card before purchasing it from bank. There is a 2,000,000 rials (65USD) daily withdrawal limit for most of Iranian bank cards, so purchasing several card lets you withdraw more money from ATMs per day. Some gift cards usually are not re-loadable. Some are pre-loaded in designated amounts, but some banks let you load them for your desired amount when you purchase. As they are no-name, there is almost no way to report stolen card and get a duplicate. Always keep passwords and cards in a safe place. Having a couple of used empty cards with passwords written on them may help you in case of being mugged for money!! There is no cash-back feature in Iranian POSs, but in case of emergency and having no access to ATM, you may ask a shop owner with POS to give you cash-back. Withdraw your leftover money in cards few days before leaving Iran to avoid any problem which may be caused by SHETAB Interbank Network failure (very very rare). It is common that ATMs do not work for an hour between 12:00AM – 01:00AM for database update. When using ATM be alert. Better not to use it in very quiet areas.


Cuisine

Iranian cuisine is diverse due to its variety of ethnic groups and the influence of other cultures. Herbs are frequently used along with fruits such as plums, pomegranates, quince, prunes, apricots, and raisins. Iranians usually eat plain yogurt with lunch and dinner; it is a staple of the diet in Iran. To achieve a balanced taste, characteristic flavourings such as saffron, dried limes, cinnamon, and parsley are mixed delicately and used in some special dishes. Onions and garlic are normally used in the preparation of the accompanying course, but are also served separately during meals, either in raw or pickled form. Iran is also famous for its caviar.